Search
And the Winners Are...
by Doris Cousens, Director JSHS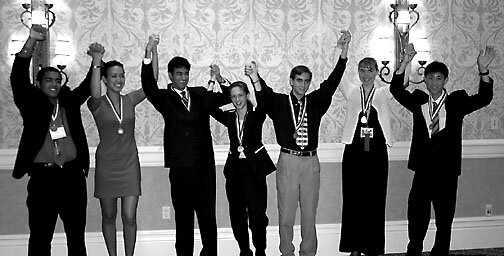 The eight first place winners will join like-minded students from around the world at the London International Youth Science Forum this summer. Philip Kurian, Kiani Arkus, Rishi Vasudeva, Ulyana Horodyskyj, Jesse Levinson, Alyssa Anderson, and Francis Song celebrated their success while wishing fellow student Amber Hohl a speedy recovery from a minor illness which caused her to miss the awards ceremony.
On Saturday evening, April 26, 2001, the Citrus Ballroom of the Wyndham Resort in Orlando, Fla., was filled with excitement and anticipation as 47 high school students and some 300 of their peers, teachers and mentors waited to learn who was to receive the highest awards of the 39th National Junior Science and Humanities Symposium (JSHS).
Ready to bestow the honors on the brightest of the bright were representatives of the program's three sponsors: Air Force Col. Jan Cerveny, Navy Capt. James Bowlin, and Army Brigadier Gen. Stephen Seay. Of the 47 students who presented the results of their scientific research at this national program, eight would receive $20,000 in scholarships, eight would receive $10,000 in scholarships and eight would receive $6,000 in scholarships. But as Gen. Seay noted in his remarks to an audience filled with hardworking, dedicated students from around the U.S. and Department of Defense schools in Europe and the Pacific, "You are all winners. Don't ever forget that!"
Indeed, they are all winners. The students who participate in JSHS are challenged by their teachers, advised by their mentors and encouraged by their parents. They tackle diverse problems in atmospheric science and physics, in health and medicine, in computer science and mathematics, in engineering, in microbiology, in biochemistry, physiology and environmental biology. They present their findings with a poise and assurance that belies their tender years.
The program awards a total of of $380,000 in tuition-based scholarships, but there is much more than money that motivates these kids. They take their studies seriously and thrive on the challenge of seeking answers and solving problems. They're also active in their communities, involved in sports, and have part-time jobs. They're all-around teenagers, and the Academy is proud to play a part in supporting them in their quest to be all that they can be!
For more details about JSHS, please visit http://www.jshs.org/
And the Winners Are:
Ulyana Horodyskyj, Padua Franciscan H.S., Parma, Ohio "Sailing into Space: Steering Towards Mars"
Jesse Levinson, Crystal Springs Uplands School, Hillsborough, Calif. "Computer-Simulated Evolution of Behavior"
Francis Song, La Jolla (Calif.) High School "Application of Differential Evolution to the Solution of Differential Equations"
Rishi Vasudeva, Roswell (Ga.) High School "Phase IV - Heat Transfer Rate of Zein Diaper Film and its Stability after Urine Exposure"
Kiani Arkus, Kamehameha (Hi.) Schools "Hala and HELA: The Inhibitory Effects of the Pandanus odoratissimus on the Growth of Human Cervical Cancer Cells"
Philip Kurian, Academic Magnet High School, Charleston, S.C. "Quantitation of Gene-Specific DNA Damage Induced by Topoisomerase-Directed Anticancer Agents"
Amber Hohl, Central Lee High School, Donnellson, Iowa "Anhydrobiotic Capacities of Three Species of Tardigrada & Evidence and Documentation"
Alyssa Anderson, LCWM High School, Lake Crystal, Minn. "A Comparison of Benthic Macroinvertebrate Sampling Sites"