A SPARK WORTH IGNITING
For Sale or Licensing
PLANTALLOR
A patented solution of rare, all-organic plant material extracts that remarkably accelerates the growth rate and yield of many other plants and flowers, generally more efficaciously than current "organic plant foods" and chemical growth promoters on the market.
U.S. Patent Nos. 5,276,005; 5,434,112 and 5,792,726. Lorina and Rines
U.S. Patent No. 5,900,387 (with zeolite) Rines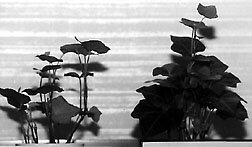 See the results yourself! The English ivy on the right was treated with Plantallor; the one on the left with a commercial "plant food."
Call AAS Technology Transfer Office (PACT) at (603) 228-0121; e-mail: