Please Meet: Doris Cousens
In each issue of SPARKS, we will introduce you to one person who is contributing to the success of the Academy. In this issue, meet Doris Cousens, director of the Junior Science and Humanities Symposia (JSHS)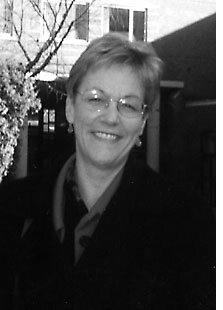 SPARKS: How long have you been interested in science education?
Doris Cousens: I have been active in youth science for 23 years, first with student outreach programs of the military and since 1988 as Program Director of JSHS.
SPARKS: Was science a large part of your education?
DC: I grew up in rural eastern North Carolina. We had a science teacher who involved her students in field projects, specifically marine studies. Since I started working for JSHS, I am proud to report that my county has produced two first place national JSHS winners.
SPARKS: When was JSHS founded and how is it funded?
 DC: The program was founded in 1958 through the leadership of Colonel George Leist, US Army. In 1995 the Air Force and the Navy joined the Army in supporting JSHS.
SPARKS: How do high school students get involved in JSHS?
DC: The students do a science project independently from their own personal initiative; for a specific science class; or as part of a science research class in which they are enrolled. 
SPARKS: What role does the science teacher play?
DC: The teachers challenge their students to push the boundaries of their knowledge through engaging in an original research project. The teachers who participate in JSHS take great satisfaction in sparking their students' creativity, guiding the project to completion and seeking opportunities for their students' educational enrichment and recognition.
SPARKS: Where does the mentor fit into the picture?
DC:  Students often need support and mentoring in developing their experimentation and in fully understanding the work done previously in their area of research.  Many student researchers have the opportunity to work in labs at government, industry or university facilities. Often, the student and the teacher are responsible for seeking mentors. 
SPARKS: What role does the university have as a building block to a successful regional symposium?
DC: Universities act as catalysts to bring together science-oriented students from their region, showcase their campuses, and demonstrate to the visiting high school students the myriad opportunities at the college level and beyond in science, mathematics and engineering. The universities which are the anchors for successful regional symposia are research centers and community leaders in student outreach initiatives.  
SPARKS: And the regional directors?
DC:  Primarily Ph.D. faculty in science or science education, the regional directors contribute significant volunteer hours and encouragement to young people. They are not paid by JSHS and the program could not run without their dedication to encouraging science research among high school students.  
SPARKS: What is JSHS doing to expand research opportunities at the high school level?
DC: We provide leadership for networking teachers and university faculties nationwide, for developing the regional symposia programs, and for sharing best practices which promote student participation in research.