Latest Highlights
Congratulations to Elizabeth A. from Danville Elementary for winning the first iPad Mini awarded to
one of the students who submitted their "Story" or volunteered to become an Ambassador for the
Academy of Applied Science. The second contest for ANOTHER iPad Mini will run until Sept. 30th.
Provide your testimonial today for your chance to win an iPad Mini that was generously donated by
Blue Hill Research.
2013 JSHS alumni is selected to attend the White House Science Fair and meet with President Obama,
Cabinet members and other dignitaries.
Students Receive iPad Mini Prizes
Feb. 21, 2014, Read on Fosters Daily Democrat how young inventors finds solutions to common problems.
Students prepare for March 22nd, 2014 Young Inventor's Program.
Grandmother's Necessity the drive for young inventor: Program teaches kids to problem solve.
Fosters Daily Democrat
Our Successes
We do what we do at the Academy because we're passionate about connecting bright young people with exciting and fruitful (and critical) careers in math, technology, engineering, and the sciences. And there's no better reward then to hear from those who have participated in our programs and found inspiration and direction and possibilities they never understood were well within their grasp.
While our successes bring a sense of satifisfaction and renew our energies, we truly savor that patriotic tingle that comes from helping, just a little, to keep America strong—in her armed forces and on the frontiers of technology and innovation that fuel our prosperity.
Below are some of the success stories we're pleased to share.
Multiple Programs
Ralph
Ralph Rodriguez, now CEO of 3 companies (Blue Hill Research, Delfigo Corporation and New Technologies) and member of AAS Board of Directors says, "The founder of the Academy of Applied Science, Dr. Robert H. Rines was my MIT professor, business mentor, IP attorney, technology collaborator and friend. His guidance and inspiration enabled me to think differently about my own inventive and scientific process. His unique creativity and belief in my work enabled me to achieve amazing success. Today, millions of people across the globe use the technology that I created for identity and fraud detection when accessing their online banking accounts."
Junior Science and Humanities Symposium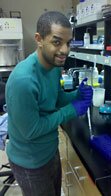 Kevin Hawkins
I am currently a sophomore, with junior standing, at Miami University in Oxford, Ohio. I am a double major with my primary major as Zoology and pre-med focus, and my secondary major as Spanish. I am also pursuing a minor in Latin American Studies. In terms of research, I am part of the Miami University Undergraduate Research and Mentoring (URM) program. I also have just been accepted into a summer internship program run by Miami University. I spent some time in the Air Force ROTC program which destracted me from research for a little; I soon realized I missed research.
Keith Hawkins, Winner of the 2009 National JSHS, (Keith and Kevin are twins)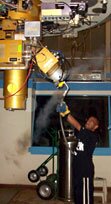 Keith reports (January 2011): I am now a 2nd year studying astrophysics, Math minor and African Studies minor at Ohio University Honors Tutorial College. I have been very busy over the past 6-8 months. During the summer, I was awarded a research position at the National Optical Astronomy Observatory in Tucson, AZ as a freshman so I worked there all summer. I came home in September for 2 days and then I left for Ghana. I was actually teaching middle school mathematics and science in Ghana. I returned to the US in late December and now I am back at Ohio University. Most recently I have a job offer from Caltech for the summer working on finding exoplanets. So it has been an exciting couple of years. (Photo Caption: Keith at the observatory out in Kitt Peak, AZ. He filling the CCD (camera) on the back of the telescope with liquid nitrogen.)
Sara Sakowitz, 12th Grade - 2014
I'm an 18 year old cancer research and high school student. Science has always intrigued me, but I became interested in cancer research almost a decade ago when my close cousin died from metastatic cancer. I spent the next several years reading and learning everything I could. When I finally turned 16 and was legally allowed to work in a cancer research lab, I emailed almost 160 scientists, and out of the two that said "maybe" I found my current wonderful mentor.
For over the past year, I have been studying the EZH2 protein pathway, which is important in cancer because it turns off genes that normally block breast cancer progression. I found that blocking that protein pathway seemed to stop cancer progression, because it forced cells to lose their invasive, aggressive behavior.
My research is directed at metastasis, or the process when cancer cells leave the site of the primary tumor and spread throughout the body. In breast cancer, metastasis is incurable: once patients progress to the later stages of the disease where their cancer has spread throughout their body, they face a lengthening list of cytotoxic therapies instead of any effective treatment. I believe my research presents the first treatment using this protein mechanism to directly target cancer progression.
I have been working on this research continuously for over the past twelve months and am finally entering the paper submission process to a very prestigious journal! The past year has really been amazing, both in the science I immersed myself in and the opportunities my research gave me. I was a 2014 Intel Science Talent Search National Finalist (as well as a Siemens Semifinalist earlier this year). I came back from the Intel International Science and Engineering Fair three weeks ago and won the First Place Grand Award, in addition to three First Place Special Awards (the Ashtavadhani Vidwan Ambati Subbaraya Chetty Foundation, the China Association for Science and Technology, and the National Anti-Vivisection Society). I had the opportunity to open my first national conference this year, as the invited opening speaker at the National Breast Cancer Coalition 2014 Leadership Summit. It was amazing to spend a few days with hundreds of breast cancer survivors, current patients, and advocates, and hear their stories of incredible bravery in their fight against such a devastating disease.
I'll be attending Columbia University in the fall as a C. Prescott Davis Scholar majoring in Biomedical Engineering. This summer, I'll be traveling to China as one of 12 finalists with the National Committee on U.S./China Relations. I was selected to give a TED talk at TED@NYC in July! I'm also in the process of starting a biotechnology company. After college, I'd like to pursue my M.D./Ph.D. in Oncology (MD) and Cell and Developmental Biology (Ph.D.).
I had a fantastic time in science fairs throughout high school, and I think JSHS was an integral part of that experience. Through the process of compiling and presenting my research, I realized how important communication was to the dissemination of true science knowledge. I never want to be a scientist isolated in the laboratory; I want to always have a dynamic relationship between the most exciting research in the laboratory and the patients that could benefit most in the clinic.
I'm just an ordinary high school girl, but my passion for science and dedication for my research have led me down a path I never even imagined: not only have I made advances in breast cancer research, but my research will soon be published and will hopefully advance to clinical trials for late-stage breast cancer patients within months. I would love to discuss my wonderful experience with JSHS/high school science fairs and encourage middle and high school students to step outside of what they know and explore the unknown questions that are so integral to the unbelievable world of science (and then to take that knowledge and share it with the world at a science fair like JSHS.)
Another message I would love to focus on would be the place of women (and girls) in science. So many girls turn away from science-- maybe because of gender stereotypes so prevalent in the media, a lack of female role models, or because they don't feel confident in their abilities in the field. I would spend extra time to encourage young girls to follow their passions and to lose their fear for science. I know that girls have an incredible potential for science, and I think the presence of girls in STEM fields is absolutely critical for continued advancement and innovation.
Alexander McBride - College Freshman - 2014
In 10th grade a friend of mine told me about the Monmouth Junior Science and Humanities Symposium. He had attended the symposium previous years, and encouraged me to apply. At the time, I was on competitive debate teams and mock trial and was investigating a career in law or business. But ever since an early age I have also been interested in taking things apart to see how they work. So I decided to take the challenge and put together a research project. After conducting a lot of research online, I decided to work on dye-sensitized solar cells (DSSCs). After reading many spectroscopy studies about plasmonics, I proposed they might be-able to boost the efficiencies of these solar cells. My first research problem was that I had no lab to work in. After contacting over fifty local university professors, over thirty did not bother responding. About twenty politely refused my request to work with them, and one professor said maybe. That professor was Dr. Caroline Schauer at Drexel University. When I initially met with Dr. Schauer, and even after the meeting, I could never guessed the drastic impact that meeting would have on my life. Three years and thousands of hours spent in the lab later, I applied to the Monmouth Junior Science and Humanities symposium. When I was selected as a finalist, I'm not sure if the directors or I were more surprised. Everyone there seemed astonished that I was homeschooled. Eight of the ten presenters came from two of the same prep schools in North Jersey with the same two science teachers. Using my experience presenting complex legal issues in front of a jury, I carefully practiced explaining my project in terms that both the everyday person and an expert in the field could appreciate. The hard work in the lab and refining my presentation paid off and I was invited to present my research at the 2013 National Junior Science and Humanities symposium in Dayton, Ohio. The week was easily one of the best of my entire life. Interacting with other students equally interested in science from all around the country is inspiring! I walked away from that week not only motivated, but confident that I could help the world through science. Winning the 1st place Engineering $12,000 prize was icing on the cake! I am still equally motivated to help improve a few people's lives with science, and am studying Materials Science-free of charge-at Drexel University. Recently I started and lead a team of five freshman on a new way to store electrical energy and created a video demonstrating the technology (which you can see here). I would love to give back and help out the Academy of Applied Sciences in any way possible. Your efforts have changed my life.
Nicole Biddinger, Sophomore in college in 2014 - JSHS 2013 Participant
Over the course of the past few years, the opportunities for personal and professional growth JSHS provided for me changed my life forever. The night of May 4, 2013, I sat at the round banquet table in Dayton, Ohio for the National JSHS awards ceremony with my Kansas-Nebraska-Oklahoma delegation, filled with excitement from everything I gained over the course of the week. When my name was called for first place in Life Sciences and the music began to play, I was flooded with emotion. All of the projects in my category were absolutely amazing, as were the student researchers who conducted them, and there are no words to express how being recognized for the research I love so much meant to me. The scholarship I received through JSHS helped reduce the financial burden on my family for me to attend my dream school, Purdue University, as it has an incredible focus on undergraduate research opportunities, for which I am eternally grateful.
The format of JSHS also enabled me to connect with individuals from around the country in nearly every field of STEM research, which was a reward unlike any other. The interdisciplinary exposure was an eye-opening experience, and I was enthralled to meet students my age with a similar passion for science and learn of the research they were conducting. To this day, I still keep in touch with many of the friends I made at JSHS, surrounding me with a wonderful network of supportive individuals filled with a common love of science. I met one of my closest friends from a Department of Defense school in Europe on my first trip to National JSHS, and we've spent the past two years writing letters of encouragement and support throughout our varying scientific and academic endeavors, which has meant the world to me. The connections made with fellow students through programs like JSHS are truly long-lasting, and those bonds are vital for both personal and professional growth. JSHS was the catalyst to pursuing my scientific career, and I am fortunate to have been able to share the research I love with so many diverse members of the scientific community.
I began my project the summer before my senior year in high school, and was fortunate enough to have the opportunity to work in a lab at Oklahoma State University. My research studied the effects of climate change on genetic evolution of Daphnia pulex - an aquatic invertebrate commonly known as the water flea - which plays a strong role in our ecosystems. What makes these organisms so amazing to study is that after they reproduce, dormant egg banks are preserved under lake bed sediment dating as far back as the 1500s. Using sediment cores and what is known as resurrection ecology, these viable eggs can be retrieved and once exposed to proper spring-like conditions, they actually come back to life. I worked with nine genotypes of these organisms from the 1500s to today, allowing for a comparison of response in heat tolerance trials over a nearly 500 year time frame to mimic patterns observed with climate change. The results of the heat tolerance experiments revealed that a strong correlation exists between tolerance and age of the daphnids, showing that an adaptation in their heat shock genes may have occurred over time.
Heat shock genes can be found in organisms ranging from bacteria to humans, and they are responsible for maintaining proper protein folding which keeps us alive in stressful conditions such as extreme temperature exposure. If these organisms had been unable to adapt to changing climate conditions over time, it would disrupt the balance of many of our lake and ocean ecosystems, so this experiment also provided a way to identify future adaptation rates based on current levels of tolerance at higher than average temperature gradients. Because daphnids are also highly sensitive to varying chemical and nutrient levels in their environment, I also tested the effects of different phosphorus levels at two temperatures to mimic the impact of fertilizer runoff on reproduction rates.
I hope to someday apply the results of the heat tolerance experiments to human heat shock protein disease research, as the heat shock genes of the daphnids may be similar to those of humans. This area of research is of particular importance to me, as I was diagnosed with Raynaud's Disease my sophomore year in high school, which is in part caused by antibodies forming against heat shock proteins in my extremities, which are the same proteins I studied at the molecular level in daphnids last summer as a continuation of my project using the feedback I received from National JSHS. Growing up with Raynaud's Disease wasn't always easy - it causes a purple discoloration in my hands and feet which many of my peers to this day have trouble understanding. I hope to use my research in the future to search for cures and treatment options to help individuals like myself facing similar battles.
Working in a university level lab prior to graduating high school was an unbelievable opportunity. I was able to collaborate with graduate and undergraduate students on research and receive training for equipment that is far more advanced that what is typically found in a high school lab. Through my time in the lab, I've found that it's one thing to read about application of the scientific method in a textbook and an entirely separate entity to physically apply it to your own research, which is why I always encourage other young science students to pursue hands-on research opportunities in STEM fields. They not only allow for invaluable networking but also help students gain priceless experience and a strong work ethic that will carry with them long after the internship is complete.
After so many professors had told me over the past four years that I was "too young" for the level of research I wanted to conduct in their labs, it became my goal to always provide support for students like myself who desired a hands-on research experience outside of the classroom. Our nation needs more students pursuing careers in STEM-related fields to continue to further our societal advancement, yet I read that the President's Council of Advisors on Science and Technology has concluded that roughly 40 percent of college students planning to major in engineering and science end up switching to other subjects. As a current college student in a science-related field, this statistic saddens me, and I firmly believe the way to retain students in STEM is through encouragement at a young age, and a major asset to that is through programs like JSHS that help foster new ideas and kindle a growing love of science.
A recent study also showed that though women fill close to half of all jobs in the U.S., they hold less than 25 percent of STEM-related jobs. It can be admittedly intimidating being considered a minority in a seemingly male-dominated field, which I've been exposed to over the past few years. It wasn't easy at first being the youngest person in addition to being in a male-dominated research lab, but I learned early on that through a strong work ethic and passion for the research, I found myself equally respected by my co-workers, and realized I had no reason to feel intimidated - for in the end, we are all just individuals united by a common love of science working toward the same goal regardless of gender or ethnicity, which was an important lesson for me to learn. I hope to serve as a role model for other young women aspiring to pursue careers in science by providing them with the inspiration they need and through sharing my own story of how far I've been able to come.
Serving as an ambassador would enable me the chance to give back for all that I've been given through participation in programs sponsored by the Academy of Applied Science while also sharing my passion for science and research to make a difference in the lives of others. I wouldn't be where I am today without the support and encouragement of the mentors in my life, whether from members of the scientific community, graduate student mentors, or educators in my academic career. It only takes one person to ignite a love of science in a student's life, and I hope to be able inspire and encourage others in the same way I was throughout my academic career.
Most importantly, it is because of programs like JSHS sponsored by the Academy of Applied Science that students like myself can find the support they need to pursue a career in a STEM field. Being able to attend National JSHS first as a poster presenter and then as a speaker gave me a variety of perspectives, and being in an environment - if only for a week - that stimulated discussions and brought together like-minded individuals provided a new sense of excitement and hope about my future. JSHS is a major part of the reason why I am currently studying biology-health and disease at Purdue University, and I couldn't be more excited for the opportunities that lie ahead in the future.
I can only hope that my research in science someday will be able to aid people in attaining a brighter and healthier future.
White House Science fair
One of our JSHS student winners was invited to meet President Obama and join students from other nationwide STEM related programs at the White House Science Fair. We've posted these links to the press release and the video as well as the President's remarks when addressing to the student winners presenting at the White House Science Fair. Following the White House Science Fair, one of the student participants, Shannon Diesch, set up a Facebook group in hopes of connecting with some of the other students that participated in the Fair.
JSHS Judges
I was fortunate to participate as a judge for the Junior Science and Humanities Symposium (JSHS) in the Physical Sciences Session yesterday, 25 Apr 2014. About the students' research, all I can say is: "Wow!" All the research I judged was top-notch; my fellow judges (from Army, Navy, and Air Force (AF)) and I (also representing the AF) had a very difficult time choosing our top three for awards. Not only are these high school students our nation's future scientists and engineers, their current research will benefit our future warfighters in many ways. Moreover, I spoke with student participants who were very excited and proud to be participating in our Department of Defense (DoD) event. If you haven't seen the T-shirts, they are awesome with the Services proudly featured on the back - great public relations for the DoD to inspire friends and others to think about the DoD as a career choice.
Well done to all!
Dr. Kathleen Kaplan
Air Force Office of Scientific Research
Kathy
Dr. Kathy Seggerson completed the post-doctorate program at the University of Colorado Health Sciences Center in Denver. As a biochemistry and genetic researcher, she is specializing in Ribo Nucleic Acid (RNA) processing. Dr. Seggerson participated in the Kentucky JSHS for three years during high school at Notre Dame Academy and went on to the National JSHS in both 1985 and 1987. In describing the impact JSHS had on her, Kathy noted, "Attending the state and national symposia was a fun and exciting reward for the hard work I had done during the year on my science project. The experience of meeting other kids interested in science was enriching and encouraging. These things probably encouraged me to pursue science when I attended college."
Dan
Dan Weitz, three-time National Junior Science and Humanities Symposium participant from the Northern New Jersey Regional and three-time winner tells us that "the format of the JSHS permitted me exposure to student research in virtually every field. I walked away from each symposium intoxicated not only by what I had learned, but what I had been exposed to. I suspect that few scientists have the privilege of such interdisciplinary exposure, particularly at such a young age. I was taught that research was enormously rewarding and that risk-taking was an essential element of good science."
Dan credits his JSHS experience for giving him the ability to see his own work (plasma physics and fusion during his JSHS research years) in the context of both other scientists and society as a whole. The exposure to a range of disciplines that JSHS fosters gave him the ability to speak of his work to scientists outside his field and to recognize the synergy between his work and theirs.
Phillip
Although possessed of a smoldering interest in geology from a young age, Phillip Szymcek admits that he was not a hot science student in middle school and that his participation in the Southern Illinois Junior Science and Humanities Symposium during high school was actually his first out-of-class science experience. That spark of interest fully caught fire in college as Phillip carried out fossil foraminifera research at Southern Illinois University in Carbondale.
Research and Engineering Apprenticeship Program
robert
"I am firmly convinced that the program provides strong reinforcement for students interested in science and engineering as a career, and also provides high quality assistants for university research. I appreciate the opportunity to once again take part in the REAP program."—Dr. Robert Cody
Latasha
"[REAP] let me see for myself the hard work and dedication that is present in the career choice I make."
—Latasha Thurman
Anthony
"The Research and Engineering Apprenticeship Program has been an awesome experience for me. I learned new concepts and skills, and relearned a few I'd forgotten, while hanging out with really cool people. It was the environment school tries to be. I'm definitely looking at a Math and Statistics major in college." —Anthony Kuhns (apprenticed at Florida State University)
Minna
"I have recently graduated from high school and plan to attend the University of Minnesota-Twin Cities in the fall to major in mathematics with an emphasis in biology. I would like to thank you so much for your support.  I was so excited to be accepted into the program, and this summer has greatly exceeded all of my expectations.  My goals were to gain more research experience and to learn about life as a researcher.  I would definitely say that I have accomplished those goals, but also much more.  I really enjoy the work I am doing and my mentors have inspired me to continue to do research in similar fields. Once again, I would like to thank you for your tremendous support. I truly appreciate your support and hope that you continue to support to this amazing program." —Minna Chen (apprenticed at The Jackson Labratory)
Jon
"Thanks to your support, [my apprentice] students were able to profit from participating in cutting-edge research while truly contributing to ongoing projects. Though we always feel their absence at the end of the program, we look forward to finding out how their futures unfold.  More important than the specific skills and knowledge students acquire at the Laboratory is the confidence they gain in their ability to succeed in scientific careers and make important contributions to human health…the summer was a life-changing event.  Your support of the program is an investment in worthy students and also scientific progress.  All of us at the Jackson Laboratory deeply appreciate your supporting these young scientists who have such great promise." —Dr. Jon R. Geiger, The Jackson Laboratory
VOICE OF EXPERIENCE
"My time spent at Purdue Calumet has been instrumental in helping me form a more holistic understanding of what biochemistry research is about. After being exposed to all these different techniques, I have gained an appreciation for the delicacy of both living and nonliving experiments. For example, though I have dealt with spectrometers before in high school, REAP's experience at Purdue Calumet has taken the understanding to a higher level. The experience I have gained during my weeks spent there will undoubtedly provide a more expanded understanding of research at the college level and a gateway to research in the future. By gaining a deeper appreciation for research, I am now considering doing research at an undergraduate and postgraduate level. REAP and Purdue University Calumet have certainly presented an excellent opportunity to indulge in first-hand experiences in the biochemistry laboratory and offered a positive stepping stone in the path of research."
Riya
"I would like to thank all the laboratory researchers and students in Dr. Howe's laboratory in Mayo Clinic for their help, guidance, and support. I would also like to extend a heartfelt thank you to the Minnesota Academy of Science, the Research and Engineering Apprenticeship Program, as well as the Academy of Applied Science for providing me the opportunity to pursue my interest in Neuroscience in a professional environment." —Riya Madan (apprenticed at the Mayo Clinic College of Medicine)
Ron and nick
"We would like to thank you for all of your time and dedication to the REAP program.  You gave our sons Ron and Nick a life changing opportunity to participate in real university research as incoming high school seniors.  They learned alot during their experience over the summer, interacting with their mentors, and the wider university community, and becoming more prepared for their future as college students.  Nick and Ron discovered what research is all about, and now they are passionate to continue.    As parents, we believe that the exposure made possible by the REAP program will make a difference in their lives.  We are greatful for all that they learned. Thank you for making it possible!"   —Ron and Daniela Ostezan
allison
Allison Cobb, Research and Engineering Apprenticeship Program (REAP), apprentice in 1993 and 1994, who recently received a promotion to territory manager at Hormel Foods, her first employer, attributes much of her drive, direction and interest in the food industry to those two summers spent working at the University of Illinois Food Science Department under REAP mentor Dr. Shelly Schmidt. Allison's interest in science and business as a high school student led to a B.S. with honors in food service and human nutrition at the University of Illinois followed by a M.S. in food services with a specialization in food marketing at Michigan State University. She began at Hormel a month after graduation and got the promotion less than a year later. Allison believes her REAP summer apprenticeship experience has shaped her goals and career.
Joshua
"My experience at the Jackson Laboratory firmed up my desire to pursue a career in biology. The laboratory experience and interaction with people who make science a large part of their life gave me insight into what a science career is all about - and for me it was what I was looking for!" —Joshua King
William
"This [as a REAP an apprentice at the University of Colorado at Colorado Springs] has definitely strengthened my love for physics. I decided to take Honors Physics instead of regular physics because of this job. I think I will go on to take AP Physics and am considering it strongly as one of my career choices. I am already a step ahead of my physics class. It is pretty much summed up by our motto in the physics lab: 'Physics Rules!'" —William Lavery
Young Inventors' Program
Jacob M - 6th Grade - 2014
This invention project has made me realize that engineering and everything there is to it is so fascinating. Nothing as simple as it seems.
Reed S - 5th Grade - 2014
Before now I never thought of a career in any of these science areas. Working on this invention project made me realize that the things I was learning could apply to any career. Like if you are baker- measuring things correctly...or if you are a pilot-air resistance.
Before I started I didn't know about simple machines. Now I know what an incline plane, wheel and axle and pulley are and how they function.
I saw the other really cool inventions and I didn't want to do it at first because I thought I couldn't. Then we did it, and now I know I can build things and create things- by myself, if I want, or with my friends.
Sarah R - 4th Grade - 2014
I invented my Canebrella to help a friend of my mother who needs to use a cane and who also needs to use an umbrella, when it is raining. I love to invent things and help people! I want to learn more about becoming an inventor!
Fiona G - 4th Grade , 2014
My partner Caleigh O. and I made an invention we called the "Paginator 6000" with the help of our adviser, my dad. Our invention was meant for turning the page of a newspaper. The simple machines we used were screws, wheel and axles, inclined planes, levers, and wedges.
One experience I had while making the project was when one of our most exciting and cool ideas for part of our invention did not work. We were going to have a wedge to hold a ball on a ramp but when we tried it the ball would not budge and go down the ramp. Instead of giving up, my partner Caleigh and I totally took the piece apart and branched off new ideas from the failed attempt. I found it interesting how some of our greatest ideas came from failures. Also, we got ideas from sharing simple ideas and turning them into masterpieces by just adding on more parts to the plain base. Another experience we came across was how much team work was put into our invention. My partner Caleigh, my dad and I all worked hard to put our invention together piece by piece, sparking each other's ideas and becoming closer as a team.
The ways this project has changed and affected me are plentiful. For one thing, I have learned so much about what works, what doesn't work, and mostly lots about simple machines. There are connections and differences between each simple machine and it sparks my mind, making me think of wild and crazy ideas that may or may not work. Because of this project I know lots about simple machines and it has inspired me to learn more. To me, this project was very life changing and fun.
This project has helped me in so many ways. One example is science. Science hasn't always been my favorite but YIP has really made me feel more confident about it. Before when I did not really like it, it was mainly because I was not good at it and I was afraid to fail. Working on our invention has taught me that I am better than I give myself credit for and next year in 5th grade I am going to have fun and be more confident about answering the science questions.
YIP has taught me science, technology, electronics, and math in a way I don't learn in school and it has made me stronger at all these things.
Griffin M - 3rd Grade 2014
Griffin (Grade 3) was inspired to do an invention because he noticed a problem that bothered him on the ski slopes all winter-- there was a lot of trash below the chair lifts on the way up the mountain. He kept asking us why people didn't throw trash in a trash can or keep it in their pockets. He came up with the invention to have a trash can on each chair lift seat. He called it the "SK-RASH CAN"--(his combination of ski and trash of course) and he want about designing it. He went about researching online sustainability and the slopes and he found out that the National Ski Areas Association has such a focus and it confirmed the idea in his mind that this was important to some ski resorts and hoped the number of those committed to sustainability would grow. He decided to write an email letter to the head of the National Ski Areas Association about his project to tell her that he won for his grade and was going to the state competition. Griffin also used his love for technology and homemade YouTube videos to create his own video narration of the PowerPoint accompanied his project. We thought this particular assignment was the best and most challenging one he had for his grade the whole year and it included him having to present his findings to folks who visited his poster. Griffin loves technology and is interested in doing more with technology, engineering or design in the future and this was all sparked by this fantastic project opportunity!
Katie L - 4th Grade - 2014
For my invention project, I made "The Rage Cage", a concussion preventing light-weight soccer helmet. I made that because last February I got a concussion from a soccer ball hitting me in the back of my head. I was out of school for a month, and I couldn't read or use any electronics. Light hurt my eyes, and I had a headache and nausea.
Ever since I was four I'd wanted to be an inventor, but I had really only come up with thing[s] for pleasure like toys, and utensils for saving a little work. That concussion experience made me think of a better, more useful idea that will change the world.
The Young Inventors' Program helped me dig into myself for answer[s] to questions like "How does it work?" and "How can I improve it?" and "What name is catchy?" because I had judges and people needing to know my answer. That helped me think like that for everything.
The YIP program is great because it makes people think up solutions to problems and think creatively. Anybody can follow a simple direction, but it's really creativity that changes the world.
Luke K - 6th Grade - 2013 Young Inventor's Program
I've always liked engineering being able to do anything you want for your job if you set your mind to it and do it. I want to be able to be successful at what I do and I think engineering can open up my mind to a bunch of new stuff that no one has done before- like the Fruit Ninja. The biggest thing I learned through doing this machine is that you can't do everything alone. For example when one of my dad's friends came over unexpected and saw the project. I told him we were having trouble with the pulley system. So he told us that we should try making another hole at the bottom of the cup to give it more tilt. Everyone loved the project we were working on and they wanted to help us. Working with mentors on this project opened me up to being more social towards people. Not just trying to do things alone and getting 100% of the credit. But taking 25% or 50% and working with other people on a successful project.
Elizabeth A - 5th Grade - 2014
Being an inventor has changed my life because I have been doing the invention convention at my school since third grade, and every year I have gone to the state convention. This year was the first year that I received awards. My invention was called the Go-Go Glasses. I got the Fidelity Investments award, first place medical and electric, and most unique in my grade. Every year I've improved my inventions to be better than the last. Next year I am going into sixth grade, which is the first grade in our middle school. My middle school doesn't do the invention convention, but I am going to try to have it happen. I am very interested in math and science, I am also very good at them. I would like to get a job in a math or science career field when I get older. I always like to push my limits in math, and learn different and easier ways to do the problems. I also like to learn new things about space and the solar system in science. Inventing has inspired me to push my limits even more and keep up my work in both inventing and math.
Mike Tetreault Parent of a 3rd Grader - 2014
I've always been into STEM, trained as a ChemE, started working in programming, now do data security. I try to do right and raise my 8 year old geek. He loves math and chemistry!
Jack R - 6th Grade - 2014
My Towel Folder Invention - I was folding towels one day as my mom made me when I looked over to my desk and saw a form from our Reach Coordinator about the Young Inventors' Program. I thought, "I'll create a Rube Goldberg towel folder so I don't have to fold towels anymore!" From here I was inspired to build. I met the next day full of ideas with one of my close friends, Nate and we agreed to enter because we worked great together. Nate was very creative and had many ideas to solve any bumps along the way and I was the person that made the ideas real. Together we were unstoppable! We first created a small flip book stapled together simply from graph paper. This book had our entire design, a calendar to schedule meetings and big events, and a list of all the materials we needed. We started planning immediately but it was very hard to plan something that revolved mostly around dynamics. It was difficult to think realistically how big our materials needed to be and if they would fit correctly on the structure. It was important to think as good engineers and to create a piece of technology with structural integrity. This part of the planning process was difficult but with some realistic thinking we made it all work. When we started the building we were confused on where we were to start. I realized we needed to start small and at the beginning of our design. We set a reasonable goal on what to get done for the day and divided up the work. We first got a gigantic piece of wood for the base and started to screw and nail with a little help from my dad. Some parts were more complicated than others so we spent hours perfecting it. The most challenging was when we wanted a fan to blow a boat down a tub of water making the boat knock down a piece of wood. Our first problem was the fan was not powerful enough to blow the boat so we upgraded it to a blow dryer to produce more wind. The next problem was the sail of the boat was not large enough to collect enough wind to move across the tub of water. To solve this problem we made the sail much larger and sturdier. Finally we had success, but this part of the Rube Goldberg was still worrisome. At our next meeting another part of the project caused trouble during the construction. It was essential to the invention so it was important that we perfected it. This portion was when a pulley lifted up two pieces of paper setting two marbles free to run in their own directions. Our first design was to have a nut holding the marbles but it turns out the nut was too heavy for the pulleys to lift. It may sound easy but it is very difficult to find a material light enough to be lifted up by something not at all strong and something strong enough to stop a marble. Finally we decided paper would be the right material. It did work but just barely. You needed very sturdy and careful hands to set the paper up without it slipping. Any of the slightest touches would set the marble off early and ruin the project. Luckily by the time we came to regionals this part was very trusty. The marble on the left went down a set of inclined planes, to a lever attached to a pulley leading to the main part of the Rube Goldberg. After it went down the set of inclined planes it hit a lacrosse ball into a bucket attached to another pulley. The weight of the ball pulled down the pulley. Because of this two boards folded together and then there was a perfectly folded towel. You may be surprised but this isn't even all of it! There is still the marble on the right. That marble first went down an inclined plane to where it set off a mouse trap. When the mouse trap was set off it catapulted a rubber duck that hit another lacrosse ball. The lacrosse ball went down another larger inclined plane and fell into a bucket attached to a pulley. It weighed down the bucket lifting up a sign asking if the towel was folded correctly. Although the Young Inventors' Program was time consuming, it did have lots of benefits. Some of them were in mathematics. We had a lot of measuring to make sure the Rube Goldberg was precise. We also used dynamics to predict the cause and effect of each section of the Rube Goldberg. We improved in our engineering skills when we had to construct an entire structure. We learned when and how to use machinery for different things such as lever, inclined plane, and wheel and axle. Overall I enjoyed learning these new skills from this experience and it has definitely changed my understanding of them. Our crazy, brilliant towel folder has inspired me to think of other inventions and ways to make my life simpler. This journey had its ups and downs but it helped me to learn how things are made. Who knows what I'll make next.
Joseph S - 6th Grade - 2014
The AAS Young Inventors' Program has helped spark a passion for me in a STEM career. I am Joseph Savell, and I participated in the 2013 and 2014 Young Inventors' Program. For a long time, I have been interested in technology. I've written my own computer programs and have experience with the parts of a computer. This was a start, but once I started on a project for the YIP, I realized that with this technological knowledge, I could make whatever I wanted- my only limit was my imagination. Both of my concepts for the YIP involved technology, and were things that I could potentially make. This led me to wanting to be a software or hardware engineer. I could improve the technology we already have, or innovate and create something completely new; the possibilities are endless. Working with something I enjoyed let me realized what I could do with the skill. This was how the AAS Young Inventors' Program helped me ignite a passion in a STEM career.
Kayla S - 3rd Grade - 2014
If we were not home in time when we went out my dog Jasper would starve to death without food plus he would get really thirsty without water. Since a dog needs both food and water I made an invention that gives both. My dad cut the wood because he said I can't use the saw. He also helped with some ideas like how to slow the water pouring down and he helped me build the connections. It took me a long time to make and Dad watched most of the time. When we had a problem me and my Dad worked together to fix it. It was good time spent with my Dad. My experience with building this invention was challenging, frustrating and rewarding. I can't wait to do it again in the fourth grade.
Vanessa C - 4th Grade - 2014
I really enjoyed doing my invention project this year. I always like to help people, I didn't realize that by performing music at nursing homes can inspire my passion for invention. That's how I came up the ideas "Extraordi-Walker". I really hope my walker will improve the quality of the lives of people who use walkers today and the lives of people who will need them in the future. This experience has helped ignite my passion for a STEM career. I realized that by working hard and build up with a good foundation might lead to something great and big when the time comes. Working with a mentor who can inspire, encourage and support me in any way, definitely will change my life for the future. I would be able to reach my potential and maybe doing something great for the mankind or even more for the world!
Liliana B - 6th Grade - 2014
Young Inventors' Program helped me to be more creative and smart. I learned the whole process of inventing and I like to come up with ideas with my friends. Here is a short video of one of my inventions.
Ronak S - 4th Grade - 2014
Young Inventors' Program was a great opportunity for me to propose a solution for the problem I have seen for many years. Whenever I biked in my house complex, I saw many children and adults biking without helmets and this observation triggered me to think about a solution when my school offered all the students to come up with an invention related to sports safety for Young Inventors' program. I came up with an invention of Helmet Safety Reminder and participated in my school's Young Inventors' Science competition. It was a very simple solution for an important problem. This program made me think like a scientist and I maintained a journal for every step, tested many alternatives and I prepared a presentation board. I won in the school competition and was selected to present my invention in NH state level Young Inventors' competition. It was amazing to see so many cool inventions in the program and I really felt proud that I was part of this STEM community. My family and teachers encouraged and helped me to make sure that I can properly communicate my ideas. They were there at the competition to cheer my up. The judges liked my presentation and invention and I was very proud to see my invention getting recognized as the best in fourth grade. This experience has given me confidence that I can excel in a STEM career. I love Math and Science and want to be an engineer.
Evan B - 2nd Grade - 2014
My experience in entering the Young Inventors' Program was to have fun, study a lot, to laugh and to learn. I found that it was educational to turn my idea into a possibility and I think it is important for kids to learn all the time and to be free with their imaginations. I learned the most by doing research on line. I Googled the meaning of inertia and used Issac Newtons theory in my invention. This is what could actually make my thought a reality. I had fun doing it, I enjoyed seeing everyone else's ideas and look forward to doing it again next year. I am very proud of my thoughts and effort. I love to learn. Thank You for the experience.
Rose K - 3rd Grade - 2014
"I was not sure whether I wanted to do the invention convention--it sounded like a lot of work. Finally I thought it sounded so interesting, and all my friends were doing it, so I thought I'd like to do it. I thought I'd do it with a partner but my friends wanted to do their own things, and I decided I would do it by myself. When planning my invention I would make a picture and plan what I wanted it to be, but then I'd think it's already been made, or I've heard of something like it before. I had the idea of a lightning screen for the house, but I did not like it that much. I talked to the enrichment teacher, and she thought it was cool but I didn't like it as much. Now what else could I do? I thought of a water bottle hanging at the waist. Talking with my mom about my idea inspired me. I thought of a tube with water in it, a water bottle with a tube coming out of it, secured around the waist. I changed my mind and decided it would have a cap on it and a thing securing it into the cap so it couldn't spill. I made the model, and it took me awhile. It was hard to find pieces--we went to several stores. When it was done I was so proud. It looked so nice and so how I wanted it to look. I added a few things and made it better. It looked amazing and not how I imagined it but better. While I was making the model I got a better idea of the invention and how it was going to work. Doing the poster I had to print carefully. I explained the problems and how it would solve them, and how it was different from anything else that served the purpose. At my school on the day of competition I was really nervous. Judges were going around, and others' inventions looked way better than mine. People were older than me. I thought, "This is never going to work". I was really scared but the judge was really nice and helped me to explain my invention. Then the judging was over. We went back to the main area when it was time for awards. I was so excited and I thought maybe I had a chance to win. The enrichment teacher was proud of everyone who had done it. When my grade was announced, they said my name--I was so amazed! I was so happy that I had succeeded. I was thinking about next year and how I will make mine even better. It was interesting to see others' ideas. Maybe someday I would like to do more of this. There are other things to create that would help others. It would be amazing if I could invent something that people would actually use, maybe get a patent. I was really excited to go to the state competition. I was really nervous but I thought I might do well, since I had before. I tried to think positively even when I saw other great inventions. The judging started, and they asked a lot of questions. They helped me to remember other things I needed to tell. I felt very confident explaining my invention this time. Once I was done it was way easier to look at others' inventions because I had already explained mine. At the awards it was crowded. I could see others getting their awards, and a friend was called up--I was happy for her. Finally they called the most practical and useful award, and they called up me! I was so happy and amazed that they had called up me! It made me feel really good. I liked doing the Young Inventors' Program because I like creating things, solving problems, and seeing my ideas expanded."
Rahul R - 6th Grade - 2014
My YIP experience: At the beginning, I found the inventing process a little interesting and so I signed up for it. I decided to do the challenge. One reason is because it seemed interesting because the topic was sports safety. I thought that was going to be easy because I am into a lot of sports and I see lots of injuries. A week later, I was thinking about this. During that time the 2014 Winter Olympics was being played on TV. I tried seeing if any of the sports could have some sort of an injury involved. I think it was a Sunday night, a week after the Olympics started. It was a bobsled competition. A Brazil team of two women took off for an amazing running start. I knew right away that they were a much faster than the rest of the teams. At one of the most difficult turns on the track, one of the most deadly injuries I saw was happening. The bobsled hit the edge of the curve and sent it upside-down onto the track but did not injure the athletes, surprisingly. At that split second, my Invention Convention idea struck me on the head. The next few weeks, I thought of making a new kind of helmet. These days, we use helmets made out of only plastic and foam. I thought maybe including an air bag and a lot of gel will fix the problem. I searched up how to make an airbag. The site said that it also includes gunpowder, so I cancelled that idea out. My parents said that the idea of putting gel inside the helmet would not be comfortable. My mom asked why not just make something that goes around the neck. I thought that was a great idea. I searched this up on the internet. The only result I got was of a neck protector which is bendable. I decided to make it hard like plastic. Introducing the new revolutionary, Smart Skull 2. The day of the competition was intense. I was nervous about the next activities. The most intense part was judging. I thought I would get a bit more extra credit for the humongous prototype I brought in to show. At first I thought it would be a little harder because I was told to memorize a speech but, I came to know that it would be easy because I have already done the research. At the end of the day, there was a ceremony. I wanted to win some award. Like there was an award for best in grade for each category award. I thought I was surely going to win that. But there was another team of two kids who won the award. I figured out later that it was because they had some sort of an electrical feature. My plan was that if you get hit in the back of the neck, waves of impact would lead to the shoulder. As you may know, the shoulder is much stronger than your neck. I think it was an amazing experience as it was my first time. I will definitely do this again, now that I know the expectations.