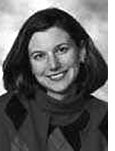 Dr. Kathy Seggerson is currently working in a post-doctorate program at the University of Colorado Health Sciences Center in Denver. As a biochemistry and genetic researcher, she is specializing in Ribo Nucleic Acid (RNA) processing. Dr. Seggerson participated in the Kentucky JSHS for three years during high school at Notre Dame Academy and went on to the National JSHS in both 1985 and 1987.

In describing the impact JSHS had on her for the special report to the military, Kathy noted, "Attending the state and national symposia was a fun and exciting reward for the hard work I had done during the year on my science project. The experience of meeting other kids interested in science was enriching and encouraging. These things probably encouraged me to pursue science when I attended college."
For Kathy, undergraduate studies were at Notre Dame University where she earned a B.S. in Chemistry, followed by Yale and a Ph.D. in Molecular Biophysics and Biochemistry. After research experience at both the undergraduate and graduate levels, and before Colorado University at Denver, Kathy undertook post-doctorate work in the lab of Dr. Tom Blumenthal at the Fox Chase Cancer Center in Philadelphia.
Kathy's teaching experience ranges from tutoring science and math at the South Bend Juvenile Facility during her freshman year of college to chemistry instructor at Manor College in Pennsylvania during the summer of 1999. She sees full time college teaching in her future.