Academy of Applied Science
SPARKS:2001
SPARKS THAT CAUGHT FIRE
Featuring those who are developing their inventive and scientific talents and are continuing pursuits first "sparked" by an Academy program!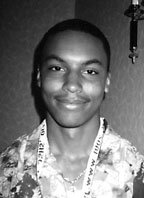 Shelton Jones, a delegate from the South Carolina JSHS to the national
symposium in Orlando in April, developed science research skills during the summer of 2000 as a REAP (Research and Engineering Apprenticeship Program) student at the University of North Carolina at Chapel Hill. Shelton worked in the Oral Microbiology Department lab at UNC for six weeks studying bacteria with Dr. Roland Arnold as his mentor.
In addition to the eight Junior Science and Humanities Symposium finalists (see "SPARKS" Vol. 1, Issue 2) who participated in this summer's London International Youth Science Forum, five other JSHS students participated in the program as one of USA Today's All-American High School Academic Teams. Competing as a USA Today team were Ann Lai (Ohio), Amber Hohl (Iowa), Dominique Rabiej (Mich.), Phil Kurian (S.C.) and Cambrian Liu (La.)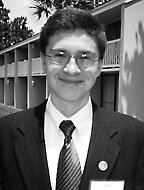 JSHS 2001 national finalist Dominique Rabiej (Mich.) is one of only 140 high school students in the U.S. to be named a Presidential Scholar for his academic and artistic success, leadership and school and community involvement.?Dominique was also the proud recipient of the third place award in Computer Science at Intel's International Science and Engineering Fair.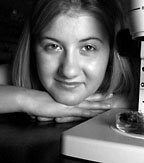 Central Lee High School senior Amber Hohl, JSHS 2001 national finalist, qualified for the International Science and Engineering Fair in San Jose, Calif. with her project involving the discovery of a new species of tardigrada which live in moss and lichen. She has been selected as The Hawk Eye's All-Area Citizen Scholar for 2001. The Hawk Eye is a newspaper in Iowa.

Please contact Peter Alford, Director of Development, at with your recommendations for future mention in "Sparks That Caught Fire."
?
?
?
?
?
?