Academy of Applied Science
SPARKS:2001
REAP Student Hits the Bull's Eye!
by Irene O'Mara, Program Director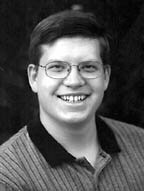 Nurturing students, one by one, is what the Research and Engineering Apprenticeship Program (REAP) is all about. The ability to work with an individual student during the summer and watch him or her grow and learn is what motivates their professor-mentors to be part of REAP year after year. This past year one REAP alumnus achieved a level of excellence that few enjoy, and his mother credited REAP as a powerful influence in her son's success.
During the summer of 2000, David Winski was preparing for his junior year at Poudre High School, Fort Collins, Colo., by being a REAP apprentice at Colorado State University (CSU). "David worked for a six-week cooperative work-study stint doing C++ programming on the computers in the high energy physics lab at CSU," said his mentor Dr. O'Brien. "He was an excellent student, very open and willing to learn. His skills certainly enhanced his experience."
In the months that followed, David proved to the world the kind of student he is; he achieved perfect scores on the Scholastic Aptitude Test (SAT) and the American College Test (ACT) of 1600 and 36, respectively. His mother credited REAP for helping "David in pulling his thoughts and goals together in a most positive direction." She also thanked the program for "making a difference" in David's life and career path.
David wanted to apply for the REAP apprenticeship again this past summer, but college visits were an understandably higher priority. He and his parents visited Carnegie-Mellon, Northwestern, the University of Illinois and Purdue. He is considering two fields of study: Chemical Engineering or Materials Science and Engineering. Now busy with a full senior academic schedule in the International Baccalaureate program at his school, David's extra-curricular programs include the Science Olympiad, where he is one of seven seniors on a 15 member team defending his school's #1-in-the-state ranking.
In recent years REAP mentors across the country have reported that the students in the program are the best apprentices they have ever had, highly motivated and willing to learn. Professor Steven Manson of Georgia State University states that in his role as a mentor to these promising young people, the most valuable lesson that he can instill in them is a better attitude about themselves and about life in general, which are lessons that they take back to their schools and neighborhoods. As he reflected on the REAP students who have passed through his lab over the years, he echoed Mrs. Winski's comments: REAP is making a difference!

?
?
?
?
?
?
?