ECybermission Internship Program
eCybermission Internship Program (ECIP): eCybermission is a web-based science, technology, and mathematics competition with significant monetary awards for small teams of students who are interested in challenges that are relevant and linked to their community.
INTERNSHIPS FOR 9TH GRADe winners
For 9th grade student winners of ECybermission, an internship program in university laboratories provides eye-opening opportunities to explore and experience the rich career possibilities in science, technology, and mathematics. Mentors are identified by contacting colleges and universities in the areas near the students' residences, and the selected student are awarded a stipend for their summer research experience in a university lab.
The Competition: Web-based; Team-based
ECybermission is a web-based competition. It takes the science fair out of the auditorium and into cyberspace. All of the collaboration tools — chat, instant messaging and Discussion Forums — as well as information about the competition — registration, rules, the Mission Challenges and Mission Folder — are on the ECybermission web site. All entries must be uploaded through the web site and teams are encouraged to use technology in researching their entries.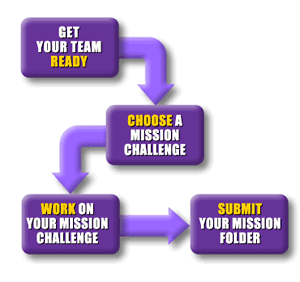 HOW IT WORKS
The ECybermission competition is best described by understanding the process, which breaks down into four base steps:

ASSEMBLE A TEAM. Each team must have 3 or 4 student members, all from the same grade. All team members must register and join the team by the end of Registration deadline (current registration date found on ECybermission web site.) Each team must have 1 Team Advisor (Team Advisor must be at least 21 years old and a teacher, coach, counselor, or leader in a youth organization.)

CHOOSE A MISSION CHALLENGE. eCybermission is all about using science, math and technology to solve a real problem in your community. The teams research and conduct experiments to find solutions. The eCybermission web site has more information on selecting a mission challenge and lists the 9 mission challenge areas.

WORK ON THE MISSION CHALLENGE. Here's what you'll be doing: Research your problem, write a hypothesis, and conduct experiments. Use Team Talk to meet with each other on-line using Discussion Forums, chat rooms and instant messaging. Answer the questions in your Mission Folder, and attach files such as photographs, survey questions, or even your own web site. Contact on-line CyberGuides through Team Talk to help you work on your Mission Challenge. Follow the links in the Mission Folder to resources like Help and Team Talk.

SUBMIT THE MISSION FOLDER. At the end of the competition, you submit your Mission Folder. There is a competition deadline that must be met and a competition timeline to help you stay on schedule. Team Advisor must review your work before submission.
Competition AWARDS
For each grade level participating in the eCybermission competition, awards are given on state, regional and national levels. Regional first place winners make up the teams who compete on a national level. For more on the awards, visit the ECybermission web site.